Mark Scott has been bettering the lives of students from North Greene Unit District #3 since taking on the role of acting superintendent two years ago.
"I have been able to update the math and ELA curriculum, get both North Greene Elementary and North Greene Jr. and Sr. High Schools renovated, and improve the overall financial status of the district," Scott told West Central Reporter. "I would now like to focus on continually improving our overall student achievement, offer different college and career opportunities to our students, and build community relationships between families and the schools. I want all stakeholders in the communities we serve to be partners with us in providing a quality education to our students. Schools cannot produce good citizens on their own, we need parents, community members, and service providers to come together to best meet the needs of the children we serve at NGUD #3."
Scott started his career teaching high school gym and health in Bluffs, Illinois. He went on to hold multiple positions with the North Greene School District including third grade teacher, elementary school principal and supervising principal at the district office. He has also taught eight grade for a neighboring Carrollton school district. Scott was hired as acting superintendent of NGUD #3 in July 2017.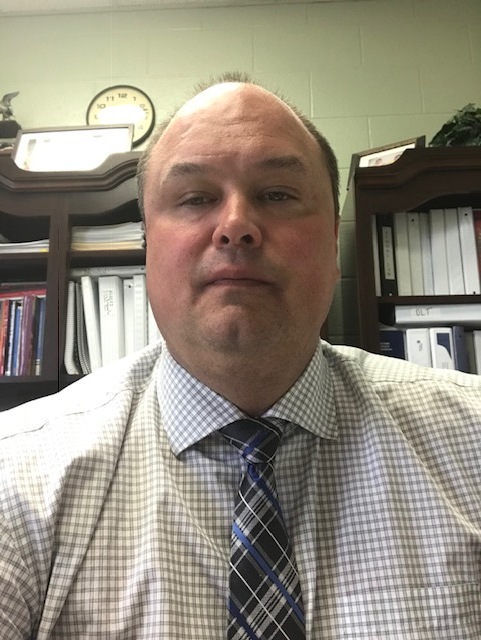 North Greene Unit District #3 Superintendent Mark Scott
"Running a school district is a 24 hour 365 day position," he said. "I serve my community by representing the students, staff, families, Board of Education, and community members on a daily basis."
Scott was born and raised in Hillview, and is also a current Hillview resident. He has lived in the North Greene School District for his whole life except for a few years. He has a bachelor's degree in elementary education from Western Illinois University (WIU), master's degree in educational leadership with a Type 75 Principal endorsement in educational leadership from McKendree University and educational specialist degree with the Superintendent endorsement from WIU.
"My educational experiences as a child at Hillview Elementary led to my love for school and education," Scott said. "I had several teachers at the elementary and secondary levels that influenced me to become an educator. I wanted to make a difference in students lives and promote the importance of good public education in the North Greene communities."
Scott enjoys hunting, fishing and spending time outdoors with his family.