School discipline: Which Illinois districts reported the most suspensions?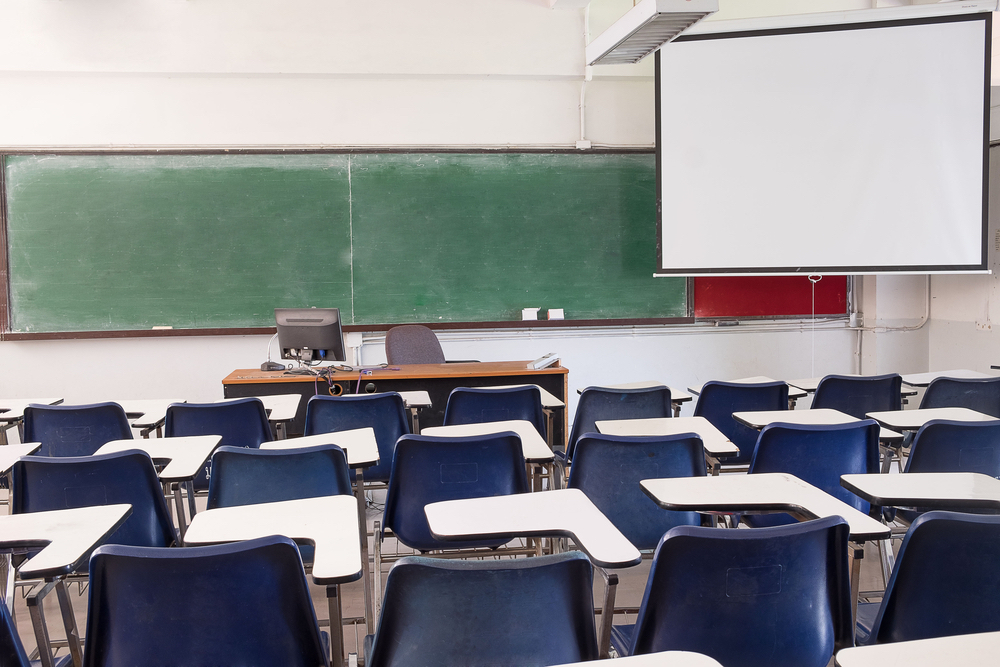 Jacksonville School District 117, Brown County Community Unit School District 1 and Winchester Community Unit School District 1 were among those in Illinois that reported the highest rate of students suspended for any reason during the 2016-17 school year, according to the latest report from the Illinois State Board of Education.
In this analysis, the incident rate is calculated by dividing the number of incidents by district enrollment.
School discipline: Suspensions
Madison Community Unit School District 12
Streator Township High School District 40
Thornton Township High School District 205
Oak Lawn Community High School District 229
La Salle-Peru Township High School District 120
Sandridge School District 172
Freeport School District 145
Peoria School District 150
Rockford Public School District 205
Sparta Community Unit School District 140
Egyptian Community Unit School District 5
Carbondale Community High School District 165
Danville Community Consolidated School District 118
Kankakee School District 111
East Alton-Wood River Community High School District 14
Dupo Community Unit School District 196
Ohio Community High School District 505
Argo Community High School District 217
Morton High School District 201
Bloom Township High School District 206
Urbana School District 116
Bradley Bourbonnais Community High School District 307
O Fallon Township High School District 203
Meridian Community Unit School District 101
Carrier Mills Stonefort Community Unit School District 2
Carbon Cliff-Barstow School District 36
Decatur School District 61
Jacksonville School District 117
Quincy Public School District 172
Venice Community Unit School District 3
St. Elmo Community Unit School District 202
County Of Union School District 43
Limestone Community High School District 310
Mount Vernon School District 80
Crete Monee Community Unit School District 201u
Grant Community High School District 124
Dupage High School District 88
Alton Community Unit School District No. 11
Oregon Community Unit School District 220
Edinburg Community Unit School District 4
Belle Valley School District 119
Silvis School District 34
Marseilles Elementary School District 150
Hoover Schrum Memorial School District 157
Reavis Township High School District 220
Rochelle Township High School District 212
Hiawatha Community Unit School District 426
Lockport Township High School District 205
Steger School District 194
Pinckneyville Community High School District 101
Hoopeston Area Community Unit School District 11
Pembroke Community Consolidated School District 259
Collinsville Community Unit School District 10
Round Lake Community Unit School District 116
Joliet Township High School District 204
Harvard Community Unit School District 50
Lebanon Community Unit School District 9
Pleasant Valley School District 62
Massac County Unit School District #1
Harlem Community School District 122
Dixon Unit School District 170
Burr Ridge Community Consolidated School District 180
West Central Community Unit School District 235
West Carroll Community Unit School District 314
East Alton School District 13
Hardin County Community Unit School District 1
Rockdale School District 84
Havana Community Unit School District 126
Centralia School District 135
Mattoon Community Unit School District 2
Calumet City School District 155
Park Forest School District 163
Putnam County Community Unit School District 535
Streator Elementary School District 44
East Coloma Nelson Consolidated Elementary School District 20
Homewood Flossmoor Community High School District 233
St. Anne Community High School District 302
Eldorado Community Unit School District 4
Rock Island Milan School District 41
Henry Senachwine Community Unit School District 5
Greenview Community Unit School District 200
Signal Hill School District 181
Horizon Science Acad-Belmont
Rich Township High School District 227
Midwest Central Community Unit School District 191
Algonquin Community Unit School District 300
Lincoln Elementary School District 156
Murphysboro Community Unit School District 186
Creve Coeur School District 76
Waukegan Community Unit School District 60
Century Community Unit School District 100
Proviso Township High School District 209
Evanston Township High School District 202
Creston Community Consolidated School District 161
Laraway Community Consolidated School District 70c
Peoria Heights Community Unit School District 325
Salem Community High School District 600
Brown County Community Unit School District 1
Dolton School District 148
Duquoin Community Unit School District 300
Bradley Elementary School District 61
Georgetown Ridge Farm Community Unit School District 4
Fulton County Community Unit School District 3
Township High School District 214
Freeburg Community High School District 77
Grant Community Consolidated School District 110
North Chicago School District 187
Warren Community Unit School District 205
Dekalb Community Unit School District 428
Glenbard Township High School District 87
Sandoval Community Unit School District 501
Country Club Hills School District 160
Cowden Herrick Community Unit School District 3a
Winchester Community Unit School District 1
Hillsboro Community Unit School District 3
Edwardsville Community Unit School District 7
Harvey School District 152
Sullivan Community Unit School District 300
Coulterville Unit School District 1
Charleston Community Unit School District No.1
Township High School District 211
Fenton Community High School District 100
Galva Community Unit School District 224
Wabash Community Unit School District 348
Flossmoor School District 161
Pontiac Township High School District 90
Princeton High School District 500
La Salle Elementary School District 122
Hamilton County Community Unit School District 10
Galatia Community Unit School District 1
Gallatin Community Unit School District 7
Forrestville Valley Community Unit School District 221
Pontiac-West Holliday School District 105
Community High School District 155
South Pekin School District 137
North Greene Community Unit School District 3
Flora Community Unit School District 35
Beach Park Community Consolidated School District 3
Bement Community Unit School District 5
Wethersfield Community Unit School District 230
Grand Prairie Community Consolidated School District 6
Annawan Community Unit School District 226
Sangamon Valley Community Unit School District 9
Westville Community Unit School District 2
Homewood School District 153
Carbondale Elementary School District 95
Vienna Elementary School District 55
Horizon Science Acad-Mckinley Park
Vienna High School District 133
Christopher Unit School District 99
Carlyle Community Unit School District 1
Mount Olive Community Unit School District 5
Carmi White County Community Unit School District 5
Manteno Community Unit School District 5
Gardner Community Consolidated School District 72c
Harmony Emge School District 175
Waltonville Community Unit School District 1
Marion Community Unit School District 2
Bethalto Community Unit School District 8
East Peoria School District 86
Moline Coal Valley Community Unit School District 40
Abingdon Avon Community Unit School District 276
Zion Elementary School District 6
Amboy Community Unified School District 272
Payson Community Unit School District 1
Iroquois County Community Unit School District 9
Canton Union School District 66
Dwight Common School District 232
Pontiac Community Consolidated School District 429
Rockridge Community Unit School District 300
Paris Union School District 95
La Moille Community Unit School District 303
Lindop School District 92
Oswego Community Unit School District 308
Lewistown Community Unit School District 97
Shiloh Community Unit School District 1
Windsor Community Unified School District 1
Woodstock Community Unit School District 200
Meridian Community Unit School District 223
Elmwood Park Community Unit School District 401
Matteson Elementary School District 162
Highland Community Unit School District 5
Carrollton Community Unit School District 1
Mt Vernon Township High School District 201
Ottawa Elementary School District 141
Riverdale Community Unit School District 100
Deland-Weldon Community Unit School District 57
Nokomis Community Unit School District 22
Benton Community High School District 103
County Of Woodford School
Grayslake Community High School District 127
Community High School District 117
Fairmont School District 89
Cicero School District 99
Marquardt School District 15
Elementary School District 159
Franklin Community Unit School District 1
More News